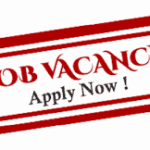 Job Title: French Language Teacher.
Location: Abuja.
Requirements
 Applicant must be female, between 20 – 28 years old.
Must be experienced in teaching children from the age of 4 years and above.
Must be smart, intelligent and confident.
Must be able to multi-task and relate well with different people of different cultures and religion.
Must be able to work in different locations in Abuja.
Application Closing Date
24th September, 2018.
Method of Application
Interested and qualified candidates should kindly send their CV's and cover letters to primmerlanguageinstitute@gmail.com